Raise your travel game.
It combines the portability of a suitcase with the organization and convenience of a dresser.
Packing is easy. Simply arrange your gear on the shelves, drop them into the case, zip and go. When you get to your destination, just unzip, lift the shelves and your clothes are visible and easy to get at. No more rifling or wrinkling.
——28——
The new 28" model is the upgraded version of our original. It has larger pockets, 4 spinner wheels and other improvements.
This generously sized model takes the greatest advantage of the shelves and pockets and keeps all your gear perfectly organized and easy to access. Ideal for multiple-person and/or multiple-day trips.
28" x 18.5" x 14" (including wheels), 14.5 lbs.
Our mid-size ShelfPack features the same unique design, features and functionality as the larger model, but in a more compact size. Ideal for weekend getaways for 1 or 2 people.
24" x 16" x 12" (including wheels), 11.5 lbs
—— 21——
Conforms to all airline size restrictions for carry-on luggage. The lift-out shelves can be hung on any closet bar. The bottom shelf is detachable if you're not carrying as much. Includes a laptop sleeve in the lid.
21" x 14" x 9" (including wheels), 8.2 lbs
All units include 4 spinner wheels for easy maneuverability.
The carry-on includes an easy-access laptop sleeve!
The 28" and 24" models include hooks you can attach to the top of the shelves so you can hang them on a closet bar.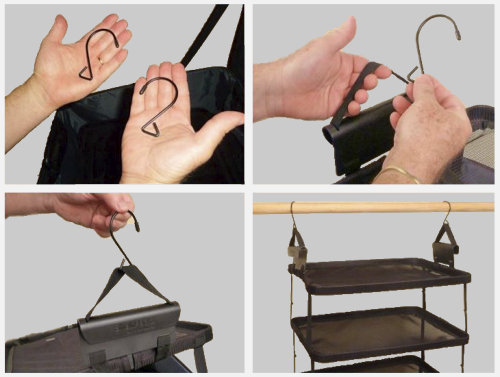 Note: Slight variations in dimensions may occur in final production.
Luggage stand and clothes rack not included.
Luggage with built-in shelves
Product Code: 5323653
Availability: In Stock
Return Policy

Returns accepted if product not as described, buyer pays return shipping fee; or keep the product & agree refund with seller.
Seller Guarantees:
Payment: